Home
Floor Removal USA is a nationwide flooring removal service that caters to both residential and commercial clients. Our customers find our services are quick, clean and extremely competitive. Our machine are run by the best trained technicians in the business , who have logged in thousands of man hours on the machines. We have the capacity to remove 11 MILLION SQUARE FEET OF WOOD FLOORS & CERAMIC TILE FLOORS PER DAY!
EQUIPMENT – Floor Removal USA utilizes ride on floor strippers that will take up the floors using a combination of torque and hydraulics. The machines can be propelled through use of battery, electric hook up or propane. Ride on floor strippers are small enough to fit through a common doorway.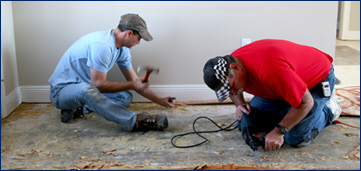 REMOVAL SPEED – Commercial environments provide the fastest results as far as floor removal is concerned. Generally as a rule of thumb in a wide open non occupied space 2000 sq ft of vct, 1200 sq ft of Ceramic tile, 1000 sq ft of stone , 900 sq ft of glue down hardwood, 1800 sq ft of glue down carpet can be removed in a period of one hour, with one machine said Flooring expert David Lavalliere.
Residential projects a good gauge would be 600 sq ft of ceramic tile, 500 sq ft of stone, 600 sq ft of hardwood floors, 900 sq ft of vinyl in a period oh one hour with one machine.
RENTING A MACHINE – Can't I rent my own machine? Although companies may exist that rent out Ride on Floor Scrapers it is quite a costly endeavor in the long run. Typically a machine will rent out between $750.00 to $1,200.00 a day. The rental company will ask for a large deposit up front, a general liability policy, and a contract stating any damage will be an automatic service charge over and above the cost of repairs. The consumer has to arrange for deliver to the job site. Think about it? The consumer is fully responsible for loading and unloading a 4000 pound machine off a vehicle.
EXPERIENCED OPERATORS – Our operators pride themselves in their professionalism. They will often walk a job long before their service is due. Walking a job with a residential or commercial client allows the operator to provide a safety orientated, cleaner, more efficient running project. Floor Remove. Com typical employee has 1000's of hours logged in on a machine. They treat every job as if it was their very own home. Cleanliness is our highest priority next to safety. Our operators have the goal of leaving a job site with the condition of virgin concrete floors.
PRICING – Pricing is indicative upon several factors. Whether project is residential or commercial. What type of floor is being removed. How much liability we have in taking on a job. The size of the project. Scope of the work. What area of the country the job is to take place. The good news is our estimators are available toll free at 1-844-854-6534 from 9am to 9pm eastern standard time.